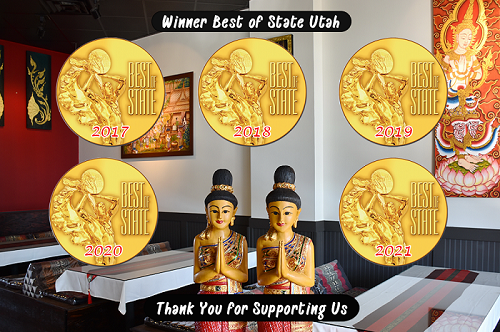 WELCOME TO
99 THAI FUSION RESTAURANT
Dine In - Take Out - Banquets

Call: 385-383-7219

Want Delivery? We have partnered with DoorDash for delivery.

Delivery with DoorDash

Thai food is very unique with its ingredients, its cooking style of balancing of sweet, salty, spicy, and sour. Its delicious taste makes Thai food very pupular around the world.

We know that not everyone is able to go to Thailand to try Thai food. Therefore, we, 99 Thai Fusion, is bringing real Thai cuisine to you at our restaurant.

99 Thai Fusion has been attracted guests from local area and other places; it's getting more popular in the State. Because of its popularity and its real taste of Thai food, it has won the Best of State 5 years in row: 2017, 2018, 2019, 2020, and 2021.
Normal Business Hours
Monday - Saturday
11 am - 9 pm.

Sunday
1:30 pm - 9 pm.



Restaurant Location:
768 W 1425 N Ste B Layton, UT 84041

Follow & Like Us On Facebook Page and Yelp!

99 Thai Fusion Facebook Page

99 Thai Fusion on Yelp

Top